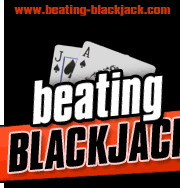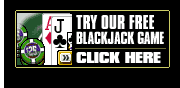 Blackjack tips, strategy, odds & more
Online Blackjack

The proliferation of the Internet has brought a whole new dimension to gambling. Players now have the option to play their favourite casino games from the comfort of their home, or wherever they happen to be connected to the Internet. Neither casino blackjack nor online blackjack are easier to win. However, online play offers many advantages over casino blackjack.

The etiquette of the blackjack table is not a concern with online blackjack. To play blackjack online you simply click a button to indicate your decisions to the dealer. There's no need to worry about misunderstood gestures or requests, improper handling of cards or a big pit boss watching your every move when you are on a hot streak. When playing online blackjack you need not worry about annoying a dealer who could potentially manipulate the play against you.

Besides the convenience factor, online blackjack offers players the chance to play undisturbed with their full attention and concentration on the game. This ultimately leads to more wins and higher bankrolls. No gorgeous waitresses asking if you would like a drink while you accidentally let a grand of winnings ride the next hand!

For those new to blackjack, playing online is the perfect learning ground. Most online games are free – don't forget to check out our free game! This allows you to learn the rules and practice the strategies without losing a penny. Then, when you are ready for the big leagues, try out a reputable online casino and play for real money!

Players who normally frequent land based casinos to play blackjack are sometimes under the impression that online blackjack is pre-programmed and make it virtually impossible to win. This couldn't be farther from the truth. Most online casinos place a high priority on player retention. Many players have and do win - and win big! No online casino wants a reputation for fixing games or not paying out. They would quickly go out of business!

Many online casinos offer sign up bonuses that let you play with their money. If you lose, you don't lose anything, if you win, you agree to pay back the sign up bonus. Even when you play for real money, you get to use someone else's money!

One large difference between casino blackjack and online blackjack is strategy. Most online blackjack games shuffle between each round so that players can't use their computers to keep track of the cards. Your best bet is to stick to basic strategy to help increase your winnings. If card counting is your thing you'll have to venture out to a land based casino and take your chances they don't show you the door.

Online blackjack also offers those in remote communities, those who are homebound or those who feel intimidated by the noise and pit bosses of a casino the chance to enjoy the game.