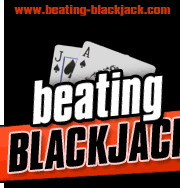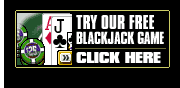 Blackjack tips, strategy, odds & more



Blackjack Instructions

Below we've detailed some simple blackjack instructions for you.



Basic Aim

The object in blackjack is to accumulate cards with point totals as close to 21 without going over 21. Face cards (Jacks, Queens and Kings) are worth 10 points. Aces are worth 1 or 11, whichever is preferable. Other cards are represented by their number.



Stand, Ties, Win

If player and the House tie, it is a push, and no one wins. Ace and 10 (Blackjack) on the first two cards dealt is an automatic player win at odds of 1.5 to 1, unless the house ties. A player may stand at any time.



The Simple Steps

Our blackjack instructions are broken down as simply as possible. To win, the player needs to beat the dealer without "busting". You "bust" when your card total exceeds 21, and with that you lose automatically. The winner is whoever has the closest to a total of 21. You reach 21 simply by adding up the values of the cards.

The best blackjack instructions that you could ever see or try though, is to actually jump in the game and try it. Click the image above to play blackjack now for free/fun or real money at the Golden Palace, one of the World's most popular online casino destinations.