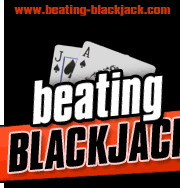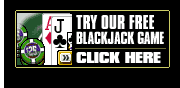 Blackjack tips, strategy, odds & more
Blackjack Tips

Third base seat – This is the seat farthest to the right of the dealer and it the last position to receive cards from the dealer. This is especially advantageous in casino blackjack if you are counting cards. In this position you see other cards that have been played before you receive yours and can then play accordingly.

London Deal – cards are dealt face up – this is also ideal for the card counter playing casino blackjack. Obviously, the more card you can see the more "true" your count will be.

Basic strategy – This is probably one of the more important blackjack tips. When playing online blackjack your only real recourse to lowering the house advantage is following basic strategy. Since the cards are shuffled after every round, card counting is useless. If you stick to the proven basic strategy and make the proper decision, online blackjack can be just as profitable as casino blackjack, sometimes even more so, considering all of the other advantages.

Card counting – Any set of blackjack tips must include card counting. If you are playing online blackjack, forget it. In a casino, card counting combined with basic strategy is a legal way to beat the house. This is what the MIT blackjack team did in the mid 1990s. Just remember, although card counting is not illegal, casino can still show you the door if they suspect you are counting cards. If you return you could be charged with trespassing. Some casinos even post photos of notorious card counters and other cheaters in the casino.

Never take insurance – house has a high edge from 5% to 7%. Unless you are counting cards in a casino, don't try it. Counting cards online is impossible so don't even think about trying it there.

Be consistent – straying from your count or strategy is just a recipe for disaster. This is equivalent to the reckless player who plays by their own made up strategy or superstition.

Play single deck games – blackjacks occur more frequently – losing costs 1 to 1 but winning pays 2 to 1. Overall, it's to the player's advantage to have fewer decks and more blackjacks.

The dealer is your friend – you are playing against the house not the dealer – they are not playing with their own money and don't care if they lose. Therefore, it is always wise to tip the dealer and try not to annoy them. In some casinos, dealers have been known to manipulate the play against a player if that player annoyed them.

Never play by the same rules as the dealer. Since if both you and the dealer busts, you still lose. This creates the basic advantage of the house.

Beating online blackjack – use reputable a company, pick highest odds, best bonuses, follow basic strategy, never lose more than your initial deposit. Bet small until wager requirements are met, know when to cash in and make a profit, read all you can about playing blackjack!

Remember beating blackjack requires not only knowing when to hit or stand but also when to bet big or bet small. By using these blackjack tips and combining basic strategy, card counting (in a casino) and a betting system you are sure to bring down the house, or at least pay for your ticket home.